Kwik Lok is leading the way in sustainable innovation
Kwik Lok is fully committed to continuing to innovate and invest in materials science. This enables us to offer products that utilize Post-Consumer Recycled (PCR) material or other materials that are recycled and recyclable. Kwik Lok's priority is helping our customers make advances in sustainability and minimizing our collective impact on the environment. For some, that means identifying opportunity to cut carbon emissions. For others, minimizing plastics is the priority. Most are trying to find a balance between the two. Kwik Lok has closing solutions that meet these challenges and continues to innovate better solutions.

Learn more about our solutions below:
You've got Questions? We've got Answers.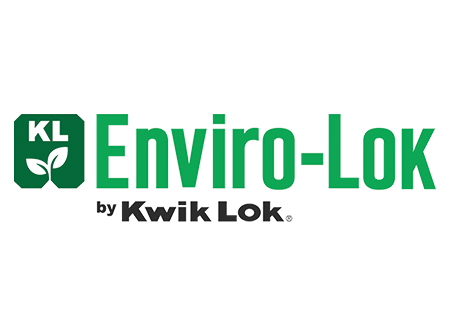 LESS PLASTIC, LESS WATER, LESS CARBON!
Enviro-Lok, the new polypropylene bag closure made to keep products safe and fresh, while also delivering on a better potential for recycling. Enviro-Lok offers the same strength and reliability that goes hand in hand with the Kwik Lok name. It has the added benefits of 34% less plastic than the standard Kwik Lok closure, 67% less water and 44% less carbon emissions emitted, and it runs on your current Kwik Lok machines. Better for the planet and for your business.

Customers may also choose the new ultrasonic welded labels, offered only with the Enviro-Lok, for branding, tracking and traceability. This label is made from the same material as the Enviro-Lok and due to the ultrasonic weld technology, removes the sticky adhesives. This makes Enviro-Lok even more prepared for recycling. A packaging solution where all the elements are made with one material, like polypropylene, makes it easier for the consumer to recycle with confidence.
Learn More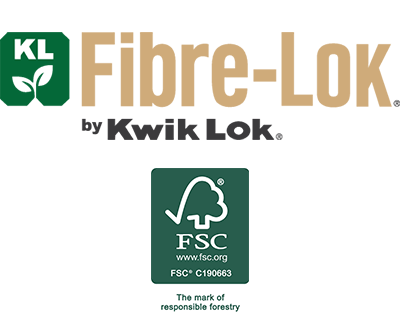 Fibre-Lok - Less Plastic!
Fibre-Lok is a bag closure made with 100% natural cellulose fibers from post-consumer waste fibers. It's backed by Kwik Lok's nearly 70-year history of reliability and is the clear choice in helping your company achieve its sustainability goals. Fibre-Lok is another important step in Kwik Lok's mission of transitioning the industry toward a sustainable future through innovation. This product is made of material from well-managed, FSC®-certified forests and other controlled sources. All FSC®-certified products only available through Canada.

In 2022 at the Fine Food Australia show, Kwik Lok and 500 other entrants from the show competed for the Fine Food's Best New Product Awards. Fibre-Lok was recognized as a top 3 finalist.
View Video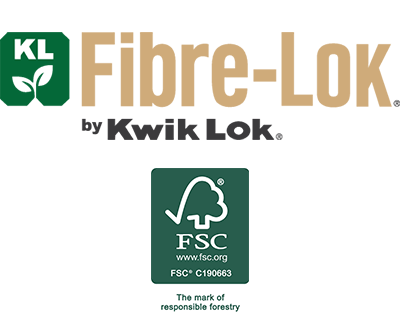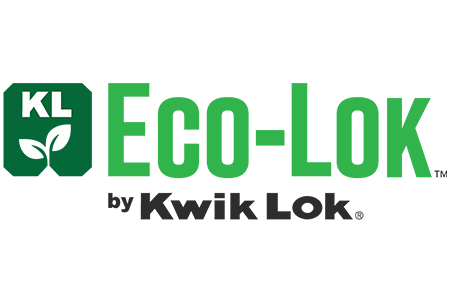 Food packaging for a sustainable future
Meet Eco-Lok – the sustainability your customers expect paired with the Kwik Lok performance that has set the standard in the bag closure industry for decades. Made with up to 20% less fossil fuel-based resin and requiring up to 20% less greenhouse gasses to manufacture, Eco-Lok makes your business more sustainable with every single sale.

Eco-Lok closures have exactly the same features and performance specs as the Kwik Lok products you have counted on for years… with a fraction the environmental impact. Eco-Lok maintains the qualities of existing Kwik Lok closures – it is printable, reusable, recyclable, and metal detector compatible.
View Video
Less is more with Kwik Link
Looking for a way to minimize packaging while providing for branding and traceability? Think Kwik Link! The Kwik Link is a semi-automatic machine that binds bunches together then adds a closure and label. This results in less packaging for a smaller carbon footprint.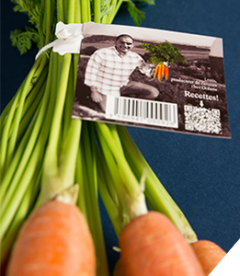 High quality labels
Attractive labels for promotional campaigns can increase sales and add additional profits.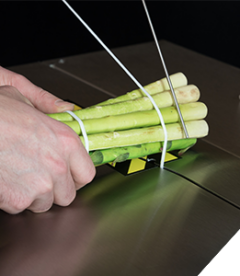 Easy to use machine
Simply swipe your product through the machine and our closure will secure it.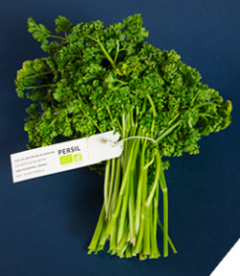 Eco-friendly packaging
Minimal packaging results in minimal waste and a reduction of carbon footprint.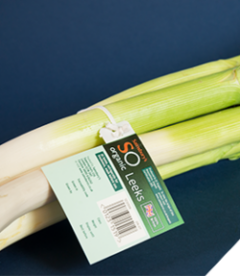 Traceability
Labels can be used to carry important package information such as: variety, grade, weight, size and bar codes.
Demonstrating our commitment by participating in four different plastics pacts.
We're are a part of the following plastics pacts to ignite change and accelerate progress across the entire plastics value chain. All of the pacts support the Ellen MacArthur Foundation's Global Plastics Pact Network with hopes of bringing a unifying voice to plastic packaging guidelines, policy, education, labeling, access, and infrastructure. Read below to learn more:
Get the latest sustainability news and insights from Kwik Lok